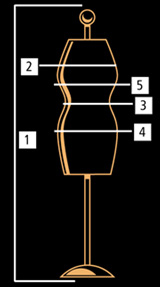 Tailor made
Give us your measurements and we will tailor your product.
Tax Free outside of the European Union
Are you a citizen outside of the European Union? You can shop tax free in our webshop.
Slip Maria
€18,97 Non EU excl. btw
Description
Corrective MtF slip.

It contains a pocket for removable reinforcement to hide your penis very effectively

The reinforcement is removable and can be ordered separately.

For extra strong, extremely effective, tucking, choose "humphider extra strong" made of polymethyl methacrylate.
For strong, comfortable, tucking, choose "humphider medium strong" made of Polyvinyl chloride

Suitable for all sizes.




Great for drag performances.

Wash carefully by hand, not suitable for the dryer.

This product is handmade in our workshop in Amsterdam of fabrics produced in Germany in collaboration with Maria Smit, designer of the "humphider".

All products are handmade in Amsterdam.
Free shipping to United stats of America if u order above €150,00
We can make our products tailor-made for you!