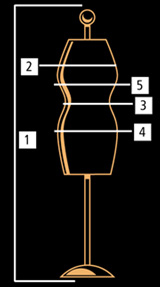 Tailor made
Give us your measurements and we will tailor your product.
Tax Free outside of the European Union
Are you a citizen outside of the European Union? You can shop tax free in our webshop.
Temporary sold out
Enter your e-mail address and we will notify you when this product is back in stock.
Silicone Torso
€304,96 Non EU excl. btw
Description
Realistic silicone torso with breast forms.
Available in a C-cup, D-cup and F-cup.
Wearable as a top, the prostheses always remain on the spot.

Made of 100% medical grade silicone.

The soft silicone makes it feel like a second skin.
Available in the colors vanilla, caramel and chocolate.

Easy to put on over the head due to elastic silicone.

Be careful with long nails or sharp rings.
The outer protective layer of the breast is fragile.

Easy to keep clean with water.

Great for Drag performance.

Perfect solution for low-garments.
The delivery time of this product can take up to 4 weeks.
Will be sent discreetly in shipping material without logos.
This product is made in China.
All products are handmade in Amsterdam.
Free shipping to United stats of America if u order above €150,00
We can make our products tailor-made for you!