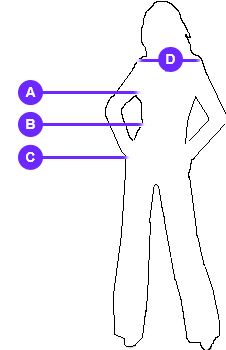 How do you measure your size?
Wear tight clothing. If you're wearing layers of clothing the size you measure won't be accurate.
Be aware of push up and/or filled bras, as well as tight belts.
Most measuring tapes have numbers on both sides (cms and inches), make sure you're reading the right side of the tape.
How do I determine which size and model is best for me?
If your scrotum is large we would recommend a slip and not the thong because there is more room to divide.
A firm scrotum is more difficult to get flat than a loose, hanging scrotum. If you have a firm scrotum we recommend choosing for the extra strong material.
Do not intentionally go down in size; you will not be able to put the slip/gaff on.
Gaffs, or shaping slips,  are ment to be tight, like a second skin. You should be able to move and the material should not be cutting into your skin.
If your sizes are not in the chart it's always possible to have a product made to measure. Fill out your sizes in the sizeform while ordering the item and we will make and send it whithin 3 workdays.
If you have any questions about your sizening please let us know! We are happy to give some advice.