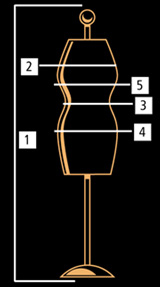 Tailor made
Give us your measurements and we will tailor your product.
Tax Free outside of the European Union
Are you a citizen outside of the European Union? You can shop tax free in our webshop.
Temporary sold out
Enter your e-mail address and we will notify you when this product is back in stock.
Emisil Erect Prosthetic ER12
€471,03 Non EU excl. btw
Description
Emisil Erect Prosthetic ER12 is a circumcised realistic prosthetic.
Can be used for intercourse.
Works best in combination with a water-based lube, such as our Fleshlube.
Do not use a silicone lube, this can damage your prosthetic.
We advise you to use a condom when using prosthetics for intercourse.
ER12 is 7,5 inches/19 cm cm long and circumference measures 5,7 inches/14,5 cm.
Can be worn with Harness, Harness Ring, Harness Slip or to apply with Derma-tac Adhesive.
Available in the basic colors vanilla, caramel and chocolate.
Made with 100% platinum healthcare grade prosthetic silicone.
Easily washable with lukewarm water and mild soap.
Appropriate for everyday use.
Three silicone layers, each with different softness.
Movable, loose testicles.
Helps with minimizing dysphoria, when you look down.
The delivery time of this product can take up to 4 weeks.
This product was made by hand and can be delicate, treat it with love and care.
For hygiene reasons, a return of this product is not accepted and you have no warranty after opening.
All sales are final. For this same reason refunds are not available.
Delivery is discreet, sent in packaging that does not reveal the nature of the product.
Your privacy is of utmost importance.
To keep your prosthesis beautiful after prolonged use, we also have the Emisil FTM - Penis Prosthetic Repair Kit.

If you find it difficult to make a final decision about buying this product don't hesitate to contact us for help or a visit to our workshop.
All products are handmade in Amsterdam.
Free shipping to United stats of America if u order above €150,00
We can make our products tailor-made for you!